This Is an Article.
Double-click the text box and begin editing. Use the text editor to customize your text. It's that easy!
Hospital Grade Cordsets
Hospital grade NEMA power cords, are marked on the face of each plug with "hospital-grade" and have a "green dot". These power cords and cord sets are built to withstand the demanding safety and performance standards of every medical and dental facility.
Electric Cord Sets, Inc. also offers the preferred "clear-molded" hospital-grade "green dot" plugs that allow users the ability to inspect internal connections through-out the life of the cord.
Please contact our wonderful sales staff for more information about ordering these cords here.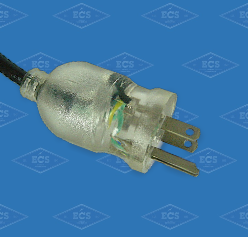 Plugs, Connectors, Receptacles and Power Cords used in medical applications must have a green dot prominently displayed on the housing surface to indicate conformance with Underwriter Laboratories specifications.
Hospital Grade wiring devices and cords must meet vigorous material, construction, and testing standards.
Prong blades must be of solid brass construction without folding.
A retaining strain relief type device must be added to the inside of the plug mold to prevent any potential stress to connections and ensure grounding reliability.
Must pass the following stringent UL tests.
Electric Cord Sets, Inc. is proud of the fact that all of our Hospital Grade powers cords are designed, tested to, and meet or exceed all of UL and CSA/CUL standards.