3 ways coronavirus will affect the US economy – and 1 silver lining


As the new coronavirus spreads around
the world, and confirmed cases and deaths
mount, economists are increasingly
concerned about the impact on the U.S.
economy. In a recent report to Congress, the
Federal Reserve warned that disruptions
from the coronavirus could spill over into
the global economy, creating new risks to
the U.S. And Wall Street lender Goldman Sachs estimates that the virus will cut as much as half a point off of U.S. economic output in the first quarter of 2020.
As an expert in supply chain management, I've studied how dependent U.S. companies have become on manufacturers of parts and products in China. But that is only one of many ways the outbreak could hurt the U.S. economy. Here, I list three – as well as something that could mitigate the impact.
1. Sales to China
China is one of the largest markets for U.S. products, especially electronics and fashion.
For example, about 47% of Qualcomm's annual revenue and 28% of Intel's income comes from China, making it the most important region for both chipmakers. China is also the second-largest market for iPhone-maker Apple, and the outbreak has the potential to severely depress its sales. Apple extended the closure of its corporate offices and all of its stores in China until at least Feb. 14.
Many cities and provinces have told businesses to stay closed, and residents throughout China have been staying off the streets. That has resulted in deserted shopping centers with closed stores, including those run by American fast food companies and fashion retailers, such as Nike, Starbucks and McDonald's, to name a few.
2. Constrained and disrupted supply chains
The Chinese economy has effectively shut down, which is taking a toll on U.S. manufacturers through their supply chains.
Manufacturers that use components in their products that are mostly sourced from infected areas in China such as Wuhan, where more than 500 car parts manufacturers operate, have two options: find alternative sources outside of China or shut down production.
Automakers including Tesla, Ford and Volkswagen have shut down plants in China. Hyundai has gone a step further and temporarily closed production lines in South Korea because of a shortage of parts, a hint of more trouble for other manufacturers.
U.S. companies such as Apple that have outsourced most of their manufacturing facilities to China have been affected by widespread closures. And even when components or products remain generally available, the disruption to established supply chains is limiting access for some companies.
3. US tourism will take a hit
Chinese tourism has in recent years become an important driver of U.S. GDP.
Then the trade war arrived, and that caused a large drop in Chinese visits. Now, the coronavirus is expected to deal another blow to the industry. Many airlines have have canceled all flights in and out of China, and the Trump administration has imposed travel restrictions that bar any foreign national who has recently traveled to China from entering the U.S.
The number of visitors coming to the United States from China could drop by as much as 28% in 2020, which could translate into $5.8 billion in less spending this year and $10.3 billion less through 2024.
Trade war's silver lining
One consequence of the U.S.-China trade war is that many U.S. companies have moved all or most of their manufacturing facilities out of China to other countries in the region, such as Vietnam, Taiwan, Bangladesh and South Korea.
In a May 2019 survey, about 40% of American Chamber of Commerce member companies said they have relocated manufacturing facilities outside China or were considering doing so.
This could mitigate some of the impact as a result of disruptions in mainland, but the outbreak is spreading to other countries in Asia – though not as fast as in China – so their new manufacturing facilities could still be affected.
Slowed by the Coronavirus, China Inc. Struggles to Reopen
Some factories are firing up again, but with many workers quarantined and parts in short supply, production is limited.
Airbus is slowly restarting its assembly line in China. General Motors began limited production on Saturday. Toyota followed on Monday morning.
Fitfully and painfully — and with some worried prodding from Beijing — China is trying to reopen for business.
The world's second-largest economy practically shut down three weeks ago as a viral outbreak sickened tens of thousands of people, unexpectedly lengthening a Chinese holiday. The freeze set off warnings that the global economy could be in jeopardy if the world's pre-eminent manufacturing powerhouse stayed shut for long.
Now, as some factories rumble back into action, the monumental task of restarting China is becoming clear. China's efforts to contain the virus are clashing with its push to get the country back to work, requiring the country's leaders to strike a balance between keeping people safe and getting vital industries back on track.

Chinese leaders called this past week for more emphasis on reviving the economy. But many of the factories that have reopened are operating well below capacity, say companies and experts. Quarantines, blocked roads and checkpoints are stopping millions of workers from returning to their jobs. Supply lines have been severed.
Even to start up again, Chinese officials are requiring businesses to provide masks to workers, record their temperatures and track their movements to make sure they haven't come into contact with the coronavirus, named COVID-19.

"The kind of fear and freeze that has taken hold in terms of economic activity is likely to persist," said George Magnus, a research associate at Oxford University's China Center. "I don't really see a good outcome."
By Monday, more than 70,000 people had been infected by the coronavirus and over 1,700 had died worldwide, according to officials. New infections continue to be confirmed around the world, including an American who was identified with the disease in Malaysia on Sunday who had been on a cruise ship, raising concerns about another potential cluster outside mainland China.
Also on Sunday, Taiwan said that a 61-year-old man who had a history of poor health but not known for travel to China had died of the coronavirus, making him the fifth fatality outside the mainland.

Still, the pace of new cases officially confirmed in mainland China, the center of the outbreak, has slowed over the past three days. The ripples have continued to spread around the world. Prime Minister Lee Hsien Loong of Singapore warned on Friday that the city-state could fall into recession as a result of the outbreak. Germany, Europe's business powerhouse, on Friday reported slowing economic growth at the end of 2019, prompting fears the virus could delay a recovery.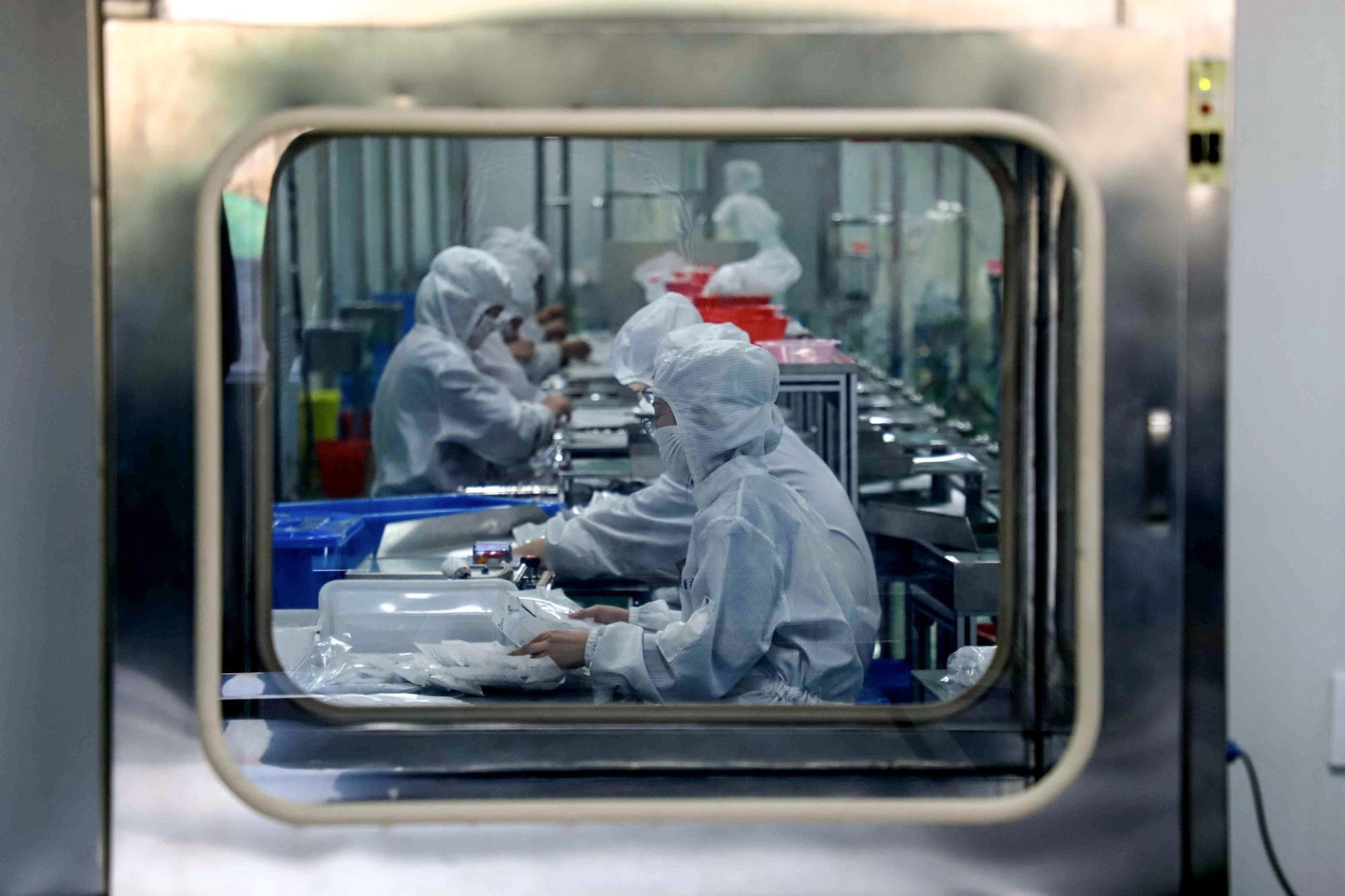 A medical supplies factory in Binzhou, China, last week. Such companies are working around the clock, but few other manufacturers are. Credit...Agence France-Presse — Getty Images
As the new week begins, China's mighty manufacturing machine — which accounts for a quarter of the world's manufacturing output — showed glimmers of revving up again.
Airbus, the European aircraft maker, said that it began to reopen its narrow-body jet assembly operations last week in Tianjin but that it would only "gradually increase production, whilst implementing all required health and safety measures." Airbus needs the production: It acknowledged on Thursday that it could not meet global demand for narrow-body jets, which airlines are clamoring for after the grounding of Boeing's 737 Max jet. The Tianjin plant has a targeted production rate of six jets per month.
Volkswagen said that it partially restarted one of its 15 assembly plants in China on Thursday and that it planned to reopen the rest gradually. G.M. said that it had begun a gradual process on Saturday to reopen its more than a dozen assembly plants in China. Hyundai said it restarted most Chinese production on Monday.
Others were more circumspect. Caterpillar, the heavy equipment company, said it reopened most plants in China last Monday at the request of the government authorities, but did not offer details, like whether production had resumed. Honda said it was trying to restart production on Feb. 24.

With the exception of factories producing medical protective equipment, which the Chinese government has asked to run around the clock, few businesses seem to be returning yet to their previous pace.
Toyota said that its four assembly plants had operated on two work shifts a day before the virus spread. But it planned to reopen three of them on Monday and Tuesday with just one shift and leave closed for now the fourth and smallest, in the western Chinese city of Chengdu.
Foxconn, the Taiwan company that makes iPhones and other gadgets on behalf of Apple and global electronics companies, declined to detail which plants have reopened since the Chinese holiday ended but denied a media report that it was aiming to reach 50 percent production levels by the end of this month. It did not respond to requests for additional comment. Apple also declined to comment, but its chief executive, Timothy D. Cook, said last month, without offering specifics, that some of its suppliers could be disrupted.
China's consumer electronics components factories slowly reopened through last week, and by Monday practically all had reopened except those in Wuhan, at the center of the epidemic, said Anna-Katrina Shedletsky, the chief executive of Instrumental, a remote quality monitoring system used by global brands to track and manage electronics manufacturing. She added, however, that many of these factories were not at full production.
The American Chamber of Commerce in Shanghai, which has members across much of the industrial heartland in east-central China, said that the majority of its members had restarted at least some operations. But the bulk of these members are not at full production, mainly for lack of workers, said Ker Gibbs, the chamber's president.
The reopening of businesses means trying to bring together again much of China's 700 million-strong labor force after what had become a nearly three-week national holiday. China's containment efforts have effectively carved up the country. At least 760 million people — slightly over half the country's population — are under various kinds of lockdown.
The authorities have begun trying to reconnect the country. China's agriculture ministry demanded over the weekend the removal of road and highway blockages in rural areas that have prevented the movement of livestock and animal feed. The southern province of Jiangxi announced last Thursday that it would dismantle checkpoints at highway entrances and exits.

But many obstacles remain.
"I know the virus is serious. I can understand that this is a disaster for the country," said Ma Hongkui, a truck driver from northwestern China who has been stranded for weeks with dozens of other truckers in a small town in the southwestern province of Yunnan for lack of cargo. "I don't know whom to ask for help."
An assembly line at the FAW-Volkswagen manufacturing plant in Tianjin in December. Credit...VCG, via Getty Images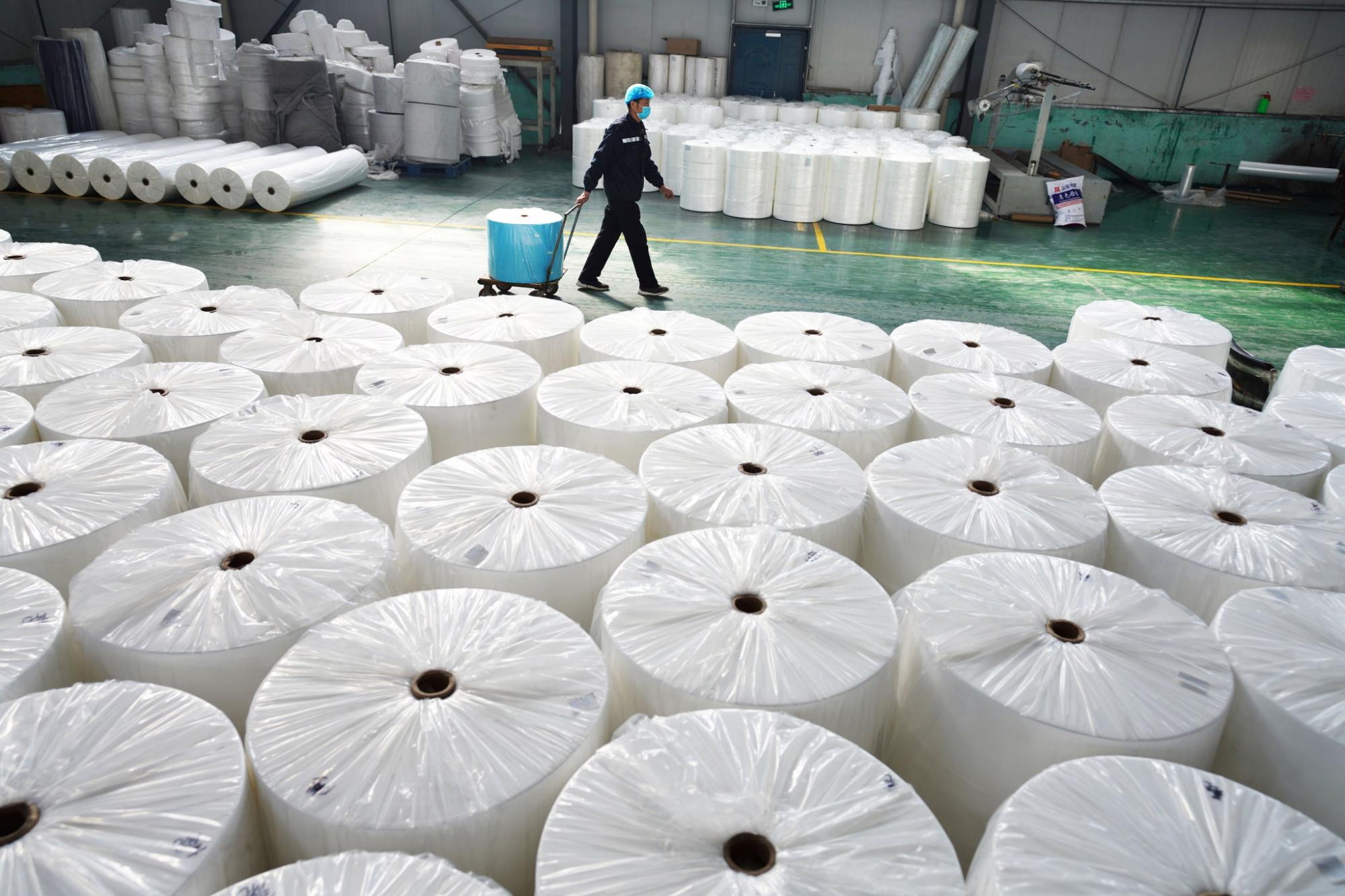 A production line manufacturing fabric for medical supplies in Zouping, Shandong Province, this month.Credit...China Daily/Reuters
In the city of Yiwu, a hub for small manufacturers in Zhejiang province and home to a sprawling wholesale merchandise market, migrant workers returning to jobs have to submit to a two-week quarantine. When they arrive at a train station in Yiwu, they are examined by dozens of officials in makeshift hazmat suits with thermal cameras. The local government has arranged 40,000 beds to accommodate them.
Only those registered with an official list of companies and work units will be allowed to enter the city, according to a statement from the government last week. Lying would be punished with arrest.
Shanghai is gathering data from employers on each worker's date of return and travel history, said Zhu Zongyao, the director of the city's Big Data Center. The city's computers will automatically assess and rate the riskiness of each worker's recent travels in terms of possible exposure to the virus.
China is "maintaining the balance of safety for the population while at the same time getting people back to work as soon as possible," said Michael D. Crotty, the co-owner of a curtain factory in Jiangsu Province that is preparing to reopen on Monday.
The local authorities required Mr. Crotty's factory to obtain a 10-day supply of face masks for every worker. But suppliers in China have been giving priority to health workers and others with urgent needs. Mr. Crotty quickly arranged to import masks from all over the world.

Requiring masks is more than onerous, said Peter Piot, the director of the London School of Hygiene and Tropical Medicine. It could also aggravate a global shortage of masks.
"At a time when there is such a shortage of face masks, you've got to have a rational way of using them," he said.
The slow and partial reopening of factories could have a knock-on effect on businesses around the world. China Weaving Materials in Jiangxi Province said that its yarn factories would not open until Feb. 20. Other companies in China need the yarn to make fabric.
In neighboring Vietnam, handbag factories are running short on fabric, zippers and various metal components that come mostly from China, said Tatiana Olchanetzky, a handbag manufacturing consultant in that country.
"Some vendors might have to make workers take unpaid leave in March if materials are not arriving," she said.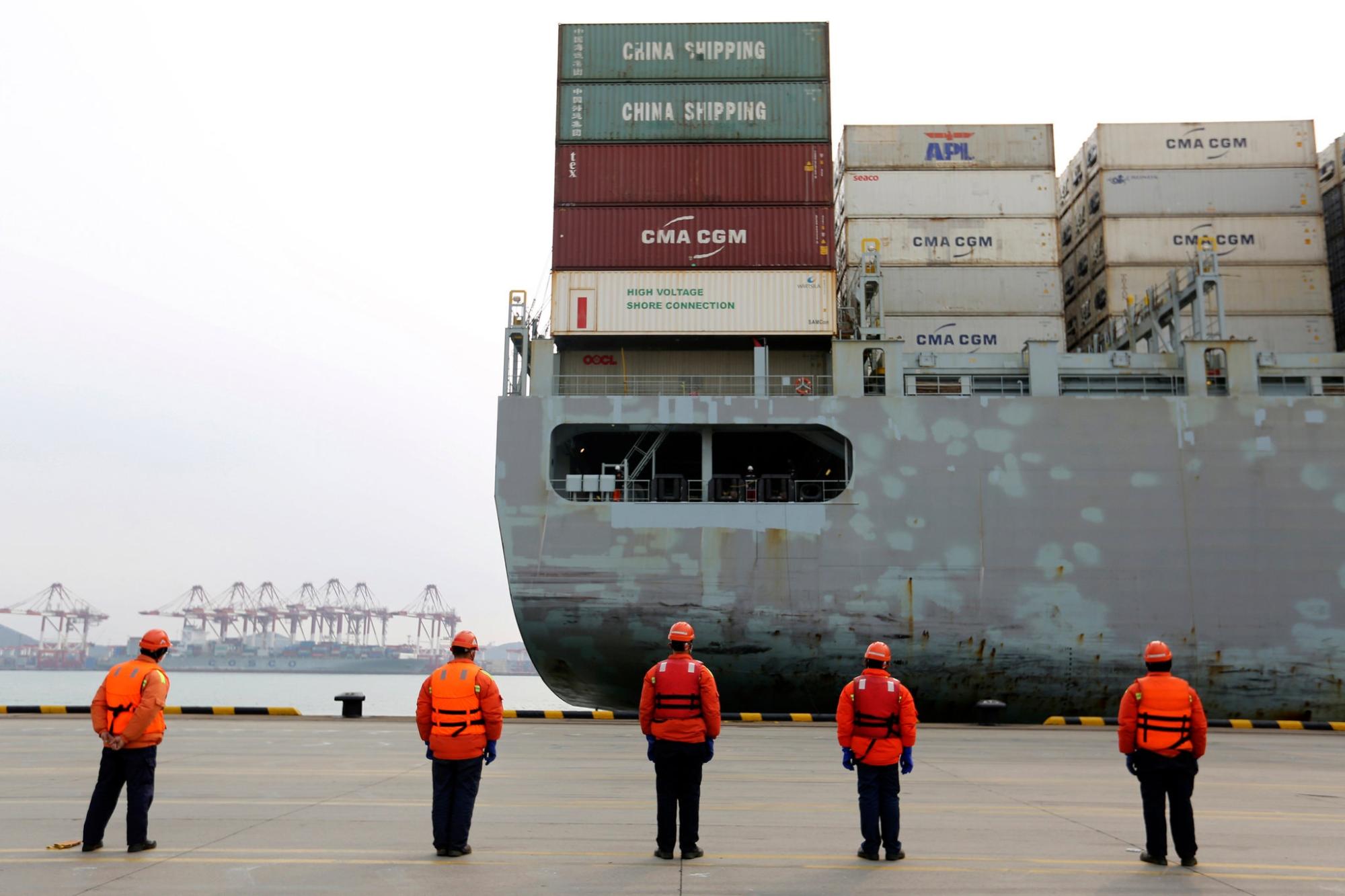 A port in Qingdao this month. Quarantines, blocked roads and checkpoints have essentially severed supply lines.Credit...CHINATOPIX, via Associated Press
Restarting China's factories is only part of the challenge. The country has a huge services and consumer sector, including shops and restaurants enjoyed by an increasingly affluent middle class. Those businesses have also been devastated by the outbreak, which has kept many Chinese families confined to their homes.
Amy Li, the owner of a Shanghai restaurant that specializes in northeastern Chinese cuisine, said that her eatery had little hope of reopening soon, like dozens of others nearby, and may not survive.
"We don't know when we can reopen," Ms. Li said. "The future is a matter of fate."
Article originally posted on The New York Times. By Keith Bradsher.
Published February 17, 2020, updated February 20. 2020 8.56am EST. Photos courtecy of Getty Images and Associated press
Paul Mozur and Raymond Zhong contributed reporting. Hisako Ueno and Cao Li contributed research.